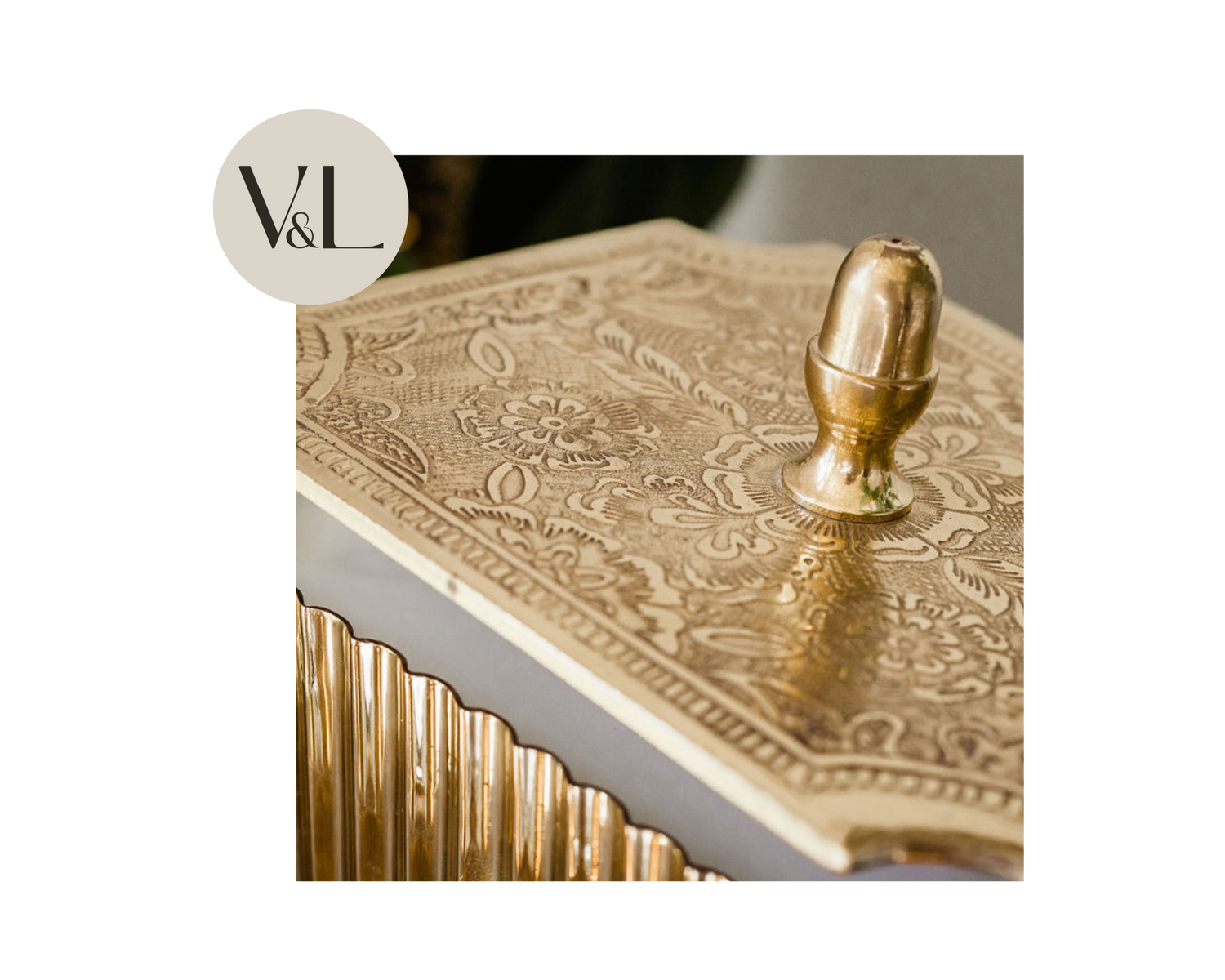 Vintage Luxury Procured with You in Mind
Vas and Lux is a small, woman owned business dedicated to finding the perfect vessel and home decor for everyone. Our candles are hand poured in small batches with the most ethical and luxurious products on the market and our home goods are conscientiously hand-picked from countries across the globe.
New Arrivals!
Regular price

$180.00 USD

Regular price

Sale price

$180.00 USD

Unit price

per
Pick a scent that's perfect for you
Floral. Citrus. Earthy. Seasonal. We have an array of scents to choose from. Order a sample today!
Candle Trivets

Form or function? These trivets can be both! Place one of these vintage beauties under a candle to add visual layering to your decor or protect your furniture from the candles heat. Hand picked for their lustre and shape they are sure to fit any style.

View

Solid Perfume

Our potent solid perfumes are made with all natural ingredients that both scent and moisturize when applied.

View

Nearly Perfect

Nearly perfect pieces have slight imperfections that do not effect the structure of the vessel but are just too delightful to discard. Their listing prices show an automatic price reduction.

View
Created Just For You

Choose your own scent and rare vessel to make the perfect addition to your home or gift for special person.

Match Holders

Pick one of our unique match stick holders to complement your luxury candle.

All Natural Wax

Apricot and Coconut Wax is silky and safe to burn in your house. Unlike most paraffin-based, store bought candles, our wax is non-carcinogenic making it safe to burn around your family and pets.
Timeless Luxury
Procured with you in mind.
Frequently Asked Questions
Vas & Lux is dedicated to using only non-carcinogenic and vegan wax along with the highest quality fragrances because while your candle or perfume is beautiful, it should be safe as well. We use a smooth, creamy, and clean burning mix of coconut & apricot waxes along with natural fragrances. Our products bring quality, function, beauty, and safety together to bring light, warmth, and comfort into your home.
Specifically:
Vas & Lux use only vegan products contain no animal products or animal-derived ingredients.
All of Vas & Lux's ingredients are toxin-free. Various categories of toxins can cause damage to one's health from exposure. We're pleased to say that our products do not contain reproductive, acute or organ toxins. 
We are passionate about only using products that are carcinogen-free. Ingredients on the California Prop 65 list are are known to cause cancer, birth defects or other reproductive harm. That's a hard pass for us!
Vas & Lux only source and produce phthalate-free products. Phthalates are lil scent carriers that help scents linger longer. Some types of phthalates have affected the reproductive system of laboratory animals so that's a no-go for us.
Vas & Lux are dedicated to anything and everything mutagen-free. Exposure to mutagens can produce DNA mutations that contribute to disease, that's why none of our products contain them.
Finally, our products are all-natural and contain no synthetic additives, only ingredients derived from nature. 
Absolutely! Email us at info@vasandlux.com with "Refill my vessel" in the subject line. In the text please include the receipt of the original vessel and the scent you'd like to use. We will reply within 3 business days with a custom listing and instructions on how and where to send your vessel.